Latest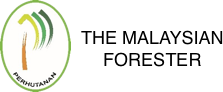 Latest Issue
Archive
Volume 85, No. 2 (2022)
RESPONSE OF AQUATIC FAUNA TOWARDS EUCALYPT PLANTATIONS: A REVIEW
Amera Natasha Mah Muhammad Adam Mah, Chong Leong Puan, Mohamad Faizul Mat Isa, Norzanalia Saadun and Norhisham Ahmad Razi
Full Text PDF
TREE BIOMASS AND CARBON STOCK ESTIMATION IN A TWICELOGGED PIAH FOREST RESERVE, PERAK, PENINSULAR MALAYSIA
M. Ramli, Z. Ahmad Fitri, N.A. Nik Norafida and A. Latiff
Full Text PDF
VISITORS' SATISFACTION WITH FACILITIES AT ULU BENDUL FOREST ECO PARK
Nor Akmar Abdul Aziz, Muhammad Haziq Omran, Mohamed Daniel Mohamed Mokhtar, Thivya Laxshmy Raman, Mohd Yussainy Md Yusop, Fiffy Hanisdah Saikim and Nordiana Mohd Nordin
Full Text PDF
PUBLIC PERCEPTION OF RISK OF RIVER SURGE AT FOREST ECO PARKS IN PENINSULAR MALAYSIA
Nurul Aida Syahirah Azmi, Mohd Aswad Ramlan, Mohd Hafizal Ismail, Azlizam Aziz and Zulkhairi Azizi Zainal Abidin
Full Text PDF
MOUNTAINEERING IN MALAYSIA: A REVIEW AND DISCUSSION
Sam Shor, N.Y., Azlizam, A., Mohd Aswad, R., Zainal Abidin, Z. A. and Mohd Hafizal, I.
Full Text PDF
AWARENESS OF RISK AND SAFETY PREPAREDNESS AMONG HIKERS IN BUKIT TABUR
EVALUATION OF FOREST STRUCTURE, COMPOSITION OF COMMERCIAL SPECIES, STAND GROWTH RATE AND VOLUME AMONG CHRONOSEQUENCE STAND AFTER LOGGING IN BORNEO, SARAWAK
Bryan Pastdy Anak Layang, Bibian Michael Diway, Ling Chea Yiing, Roland Kueh Jui Heng, Khan Waseem Razzaq and Geoffery James Gerusu
Full Text PDF
PAYMENT FOR ECOSYSTEM SERVICES: A REVIEW OF KEY PRINCIPLES AND FUNCTIONAL ROLES BASED ON REAL-WORLD APPLICATIONS
PERFORMANCE OF 15-YEAR OLD PLANTED SHOREA ROXBURGHII G. DON AT SEGAMAT FRIM SUBSTATION, JOHOR
UNLOCKING THE BEST TIMBER HARVESTING OPERATIONAL PLANNING WITH GEOSPATIAL TECHNOLOGY- LOG YARD PREDETERMINATION
Jamhuri, J., Norizah, K., Mohd Hasmadi, I. and Siti Azfarnizam, A.
Full Text PDF
STORMWATER AFFECTING THE STREAM WATER QUALITY AND BASEFLOW PATTERN: A CASE STUDY OF SUNGAI KOYAN CATCHMENT, SARAWAK
Abdul Mazli Hafiz Bin Abdul Malik, Waseem Razzaq Khan, Sinanawati Marto, Patricia King Jie Hung , Nur Aiza Binti Mohamad and Geoffery James Gerusu
Full Text PDF
SOIL PHYSICOCHEMICAL PROPERTIES IN RESPONSE TO TREE PLANTING AT GUNUNG SIKU FOREST RESERVE, PAHANG
Syafinie Abdul Majid, Noor Janatun Naim Jemali, Amey Nadirah Fairuz and Halimatul Saadiah Abdullah
Full Text PDF