Latest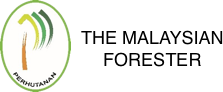 Latest Issue
Archive
Volume 84, No. 2 (2021)
BIG DATA ANALYTICS ALONG THE SUPPLY CHAIN OF THE FORESTRY SECTOR: A REVIEW ANALYSIS
INFLUENCE OF INTRINSIC, EXTRINSIC AND APATHETIC MOTIVATION ON LOCAL COMMUNITY INTENTIONS TO PARTICIPATE IN ECOTOURISM DEVELOPMENT AT KUCHING WETLANDS NATIONAL PARK, SARAWAK, MALAYSIA
Kaleem Shah, Shazali Johari, Manohar Mariapan, Mohammad Nurul Alam, Diana Emang, Zamri Rosli and Muhammad Kohdi
Full Text PDF
POTENTIAL OF WOOD WASTE, COCOPEAT FIBRES AND NATURAL RUBBER LATEX IN PARTICLEBOARD MANUFACTURING
Norani, A.K., Nik Ahmad Farizan, N.L., and Wan Noor Aidawati, W.N.
Full Text PDF
NOTE ON THE DISTRIBUTION OF PTEROSPERMUM PECTENIFORME KOSTERM. (DOMBEYOIDEAE : MALVACEAE S.L.) IN PENINSULAR MALAYSIA
Ahmad Fitri, Z., Nizam, M. S., Saiyidah, R. B., Rohaiza, D., Faezah, P., Nurul-syahirah, M., Norazlinda, M., Ruzi, A. R., Nur Aqilah, M. B., Nik Hazlan, N. H., Nik Norafida, N. A. and A. Latiff
Full Text PDF
INFLUENCE OF KNOWLEDGE, ATTITUDE AND EXPERIENCE TOWARDS BIODIVERSITY CONSERVATION: CASE STUDY OF BAKO NATIONAL PARK, SARAWAK, MALAYSIA
Mohamad Syahrul Nizam, I., Mohamad Ibrani Shahrimin, A.A, Shazali, J., Syarifah Kamariah, W.M and Suziana, H.
Full Text PDF
ASSESSING MOUNTAIN TRAIL CONDITIONS IN THE TROPICAL RAINFOREST: MERAPOH TRAIL, TAMAN NEGARA NATIONAL PARK, MALAYSIA
Zainal Abidin, O., Sam Shor, N.Y., Shukri, M. and Azlizam, A.
Full Text PDF
CAMERA TRAP SURVEY OF WILDLIFE IN STATE LAND FOREST, MERAPOH, PAHANG, MALAYSIA
Hamirul S., Izereen M., Azmin H., Izzati A., Ainur B., Nabihah M., Izyan S., Syafiq N., Izzat N., Syafiq S., Aainaa A., Norashikin F., Hizami H., Azahar A., Firdaus K., Amal N., Ai Yin S., Lukman I., Yusoff S., and Kamarul H.
Full Text PDF
POTENTIAL RISKS OF ACCIDENT AND INJURY DURING WATER ACTIVITIES AMONG VISITORS AT RECREATIONAL FORESTS
Nor Akmar Abdul Aziz, Athirah Nabillah Ahmad Shukri, Mohamed Daniel Mohamed Mokhtar, Thivya Laxshmy Raman, Fiffy Hanisdah Saikim, Nordiana Mohd Nordin, and Mohd Yussainy Md Yusop
Full Text PDF
FOREST GOVERNANCE IN BANGLADESH: A PROBE INTO SELECTED POLICY AND INSTITUTIONAL DIMENSIONS
DIVERSITY AND DISTRIBUTION OF WILD FRUIT TREE SPECIES (GARCINIA, MANGIFERA AND NEPHELIUM) IN SELECTED FOREST RESERVES IN MALAYSIA
Mohd. Norfaizal, G., I. Salma, F. R. Chia, P. Runi, S. Samsudin and Muhammad Shafie, M.s.
Full Text PDF
THE MECHANISM OF DRONE SEEDING TECHNOLOGY: A REVIEW
Omar Faruqi Marzuki, Ellie Yi Lih Teo and Azmin Shakrine Mohd Rafie
Full Text PDF