Latest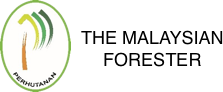 Latest Issue
Archive
Volume 84, No. 1 (2021)
A REVISION OF GENUS VATICA L. (DIPTEROCARPACEAE) IN BORNEO II: VATICA ABANG-ZOHARII, A NEW SPECIES FROM SARAWAK
DIURNAL INSECT POLLINATORS OF RAFFLESIA KERRI MEIJER AT LOJING HIGHLANDS, KELANTAN, PENINSULAR MALAYSIA
Hor, P. L., Norhazlini, M. Z., Nasihah, M. and H. Zulhazman*
Full Text PDF
BUILDING PROFESSIONALS ATTITUDE TOWARDS TIMBER AS A BUILDING MATERIAL IN MALAYSIA
Amir Affan, A.A., Shukri, M., Sam Shor Nahar, Y., Ummu Afiqah, A.R. and Jaen Zhoweyna, J.
Full Text PDF
PHYSICAL IMPACT INDICATORS FOR MOUNTAIN TRAILS: A CASE STUDY OF GUNUNG TAHAN TRAIL, MALAYSIA
Sam Shor, N.Y., Shukri, M., Azlizam, A., Zamru, A. and Zainal Abidin, O.
Full Text PDF
EVALUATION OF SELECTED PHYSICAL AND MECHANICAL PROPERTIES OF THREE BAMBOO SPECIES
Lee Pay Chiann, Nor Aini Ab. Shukor, Edi Suhaimi Bakar And Sures Kumar Muniandi
Full Text PDF
SOIL CHARACTERISTICS STATUS OF A REHABILITATED FOREST IN BINTULU, SARAWAK
Roland Kueh Jui Heng, Nik Muhamad Ab. Majid, Osumanu Haruna Ahmed, Seca Gandaseca, Silvester Jemat , Melvin Ku Kin Kin, Chong Fung Yun and Leong Sui Yen
Full Text PDF
EVALUATION OF CHANGES IN THE FOREST ENVIRONMENT IN GUILAN PROVINCE USING A COMBINATION OF REMOTE SENSING DATA
Davoud Omarzadeh, Mehdi Afraz, Mohammad Akbari, Mobin Eftekhari and Zahra Noghani
Full Text PDF
ECONOMIC EVALUATION OF TREE SPECIES AT PULAU TENGGOL FOREST RESERVE, TERENGGANU, MALAYSIA
Z. Ahmad Fitri, J. Hafizah, N. H. Nik Hazlan, N. A. Nik Norafida and A. Latiff
Full Text PDF
ASSESSMENT OF RUBBERWOOD (HEVEA BRASILIENSIS) CLONES PROPERTIES FOR MALAYSIAN FURNITURE INDUSTRIES
Norul Izani Md Allwi, Juliana Abdul Halip and Sam Nureszuan Sam Sabtu
Full Text PDF
A SURVEY OF BIRDS IN AN URBAN TROPICAL RAINFOREST PARK: KUALA LUMPUR ECO-FOREST PARK, BUKIT NANAS
Mohd Yussainy Md Yusop, Zahari Ibrahim, Mohd Hafiz Hamzah, Ismail Mamat, Jamil Mat Isa, Sulaiman Salikan and Siti Zuhaida Hussein
Full Text PDF
AWARENESS, KNOWLEDGE AND PERCEPTION OF FORMALDEHYDE EMISSION FROM WOOD COMPOSITE PRODUCTS AMONG DESIGN PROFESSIONALS
Saadun, N., Paridah, M.T., Roseley, A.S.M., Lee, S.H., Juliana, A.H., and Adnan, A.
Full Text PDF
EXPLORING THE EVIDENCE FOR CONSERVATION-POVERTY LINK: THE CASE OF KG. TUDAN, KIULU, TUARAN, SABAH
Jelod@Gerald Jetony, Monica Suleiman, Nor Akmar Abdul Aziz, Nordiana Mohd Nordin, Awangku Hassanal Bahar Pengiran Bagul, Zulhazman Hamzah and Fiffy Hanisdah Saikim
Full Text PDF
TRENDS IN THE AGARWOOD INDUSTRY OF PENINSULAR MALAYSIA
Azren Putra Desa, Shiou Yih Lee, Mohd Zamakhsyary Mustapa, Rozi Mohamed and Diana Emang
Full Text PDF
DISTRIBUTION PATTERNS OF PLANT COMMUNITIES IN RIVERINE MANGROVE HABITATS AND THEIR ASSOCIATIONS WITH CONDUCTIVITY FACTORS IN THE WEST COAST OF PENINSULAR MALAYSIA
Siti Nur Fatehah, R., Shamsul, K., Wan Juliana, W.A., Norela Sulaiman, Md. Shahril, M. H. and A. D. Nurul Darsani
Full Text PDF