Latest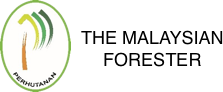 Latest Issue
Archive
Volume 81, No. 2 (2018)
PREFERENCE FOR TIMBER AS A BUILDING MATERIAL - A SURVEY OF HOMEOWNERS IN BACHOK, KELANTAN
Shukri, M., Sam Shor, N. Y., Amir Arfan, A. A., Nurul Najihah, A. M., Siti Hajar, H. & Nur Aiman Shuhada, A. A.
Full Text PDF
FRUIT MORPHOLOGICAL CHARACTERISTICS OF CULTIVATED AQUILARIA LAM. (THYMELAEACEAE) IN PENINSULAR MALAYSIA
AROMATIC PLANT GENETIC DIVERSITY AND LOCAL USE OF UNDERUTILIZED MEDICINAL AND AROMATIC TREES IN AYER HITAM FOREST RESERVE, SELANGOR, MALAYSIA
S. R. Jumaat, S. Y. Lee, M. D. Azren And R. Mohamed
Full Text PDF
ESTIMATING ABOVEGROUND BIOMASS AND CARBON STOCKS OF MANGROVE FORESTS IN KUALA SEPETANG, PERAK
Muhd Ekhzarizal Mohd Eusop, Mohd Hasmadi Ismail And Mohamad Roslan Mohd Kasim.
Full Text PDF
PILOT STUDY ON VISITORS' SEGMENTATION AT PENANG NATIONAL PARK BASED ON PLACE ATTACHMENT
NOTES ON THE SPECTACULAR EARPOD TREE ENTEROLOBIUM CYCLOCARPUM (JACQ.) GRISEB. IN UNIVERSITI PUTRA MALAYSIA
M. S. Hishamuddin, S. Y. Lee, Y. C. Pern, R. Mohamed And I. Faridah-Hanum
Full Text PDF
MOBILE PHONE AND TABLET ASSISTED POSITIONING DEVICE FOR TREKKERS: THE CASE FOR SULTAN IDRIS SHAH FORESTRY EDUCATION CENTRE (SISFEC)
Saad Nyan , Norizah Kamarudin, Zulfa Abdul Wahab And Mohd Hafizal Ismail
Full Text PDF
WATER QUALITY ASSESSMENT OF SEPETANG RIVER AT MATANG MANGROVE FOREST, PERAK
Laurna Nyangon, Seca Gandaseca, Ahmad Mustapha Mohamad Pazi And Albert Empawi Tindit
Full Text PDF
SPATIO-TEMPORAL ANALYSIS OF MAXIMUM URBAN HEAT SIGNATURE IN URBAN FOREST: THE CASE OF UNIVERSITY OF INDONESIA, DEPOK, WEST JAVA
Adi Wibowo, Khairulmani Osman Salleh, Jarot Mulyo Semedi, And Iqbal Putut Ash Shidiq
Full Text PDF
IN VITRO ROOT REGENERATION FROM EUCALYPTUS CAMALDULENSIS DEHNH. SHOOTS
Nor Aini Ab Shukor, Nozad Ali Qader And Sures Kumar Muniandi
Full Text PDF