Latest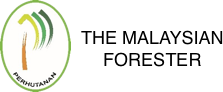 Latest Issue
Archive
Volume 80, No. 1 (2017)
AMBIENT GASES LEVELS DURING DRY SEASON IN FORESTED AREA OF PERLIS
Nadiah, S.A., Latifah Munirah, K., Ammar, Z. and Ali Yeon M.S.
Full Text PDF
COMPARATIVE STUDY OF CARBON EMISSION CHANGES FROM DIFFERENT LOGGING TECHNIQUES IN INLAND PRODUCTION FOREST IN PAHANG
Azian, M., Ismail, P., Abd. Rahman, K., Samsudin, M., Mohd Nizam, M.S., Nur Hajar, Z.S., Azmer, M., Lim, K.L. & Yusoff, M.
Full Text PDF
CLIMATE VARIABILITY IN RELATION WITH LAND USE CHANGES OVER A 30-YEAR PERIOD IN KELANTAN RIVER BASIN
Faizalhakim, A.S, Nurhidayu, S., Norizah, K., Shamsuddin, I., Hakeem, K.R & Ismail Adnan
Full Text PDF
CHANGE DETECTION OF SUNGAI PULAI MANGROVES AND OTHER LAND COVER AT MUKIM LEVEL BY LANDSAT IMAGERIES IN SUNGAI PULAI, JOHOR
Noor Shaila Sarmin, Mohd Hasmadi Ismail, Pakhriazad Hassan Zaki and Khairil Wahidin Awang
Full Text PDF
PHYSICOCHEMICAL ANALYSIS OF WATER BODIES IN THE MATANG MANGROVE, PENINSULAR MALAYSIA
COMBINATION OF ALOS PALSAR AND LANDSAT 5 IMAGERY FOR RUBBER TREE MAPPING
Iqbal Putut Ash Shidiq, Mohd Hasmadi Ismail Mohammad Firuz Ramli and Norizah Kamarudin
Full Text PDF
DISTRIBUTION, ABOVE-GROUND BIOMASS AND CARBON STOCK OF THE VEGETATION IN TAMAN BERINGIN URBAN FOREST, MEDAN CITY, NORTH SUMATRA, INDONESIA
EVALUATING THE EFFICIENCY OF LOG PROCUREMENT OPERATION IN PENINSULAR MALAYSIA
Norizah, K., Ismail Adnan, A.M., Lokman, A., Rhyma, P.P. and Muhammad Farid, A.R.
Full Text PDF
WILLINGNESS TO PAY FOR CONSERVATION FEE USING CONTINGENT VALUATION METHOD: THE CASE OF MATANG MANGROVE FOREST RESERVE, PERAK, MALAYSIA
Fatin Ramli, Zaiton Samdin and Awang Noor Abd Ghani
Full Text PDF