Latest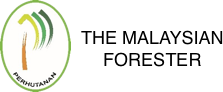 Latest Issue
Archive
Volume 77, No. 1 (2014)
FOREST BIOMASS ASSESSMENTS WITH SPECIAL REFERENCE TO L-BAND ALOS PALSAR DATA
Hamdan Omar, Mohd Hasmadi Ismail, Khali Aziz Hamzah, Helmi Zulhaidi Mohd Shafri and Norizah Kamarudin
Full Text PDF
WILLINGNESS TO PAY FOR CERTIFIED WOOD MATERIALS AMONG BUILDERS JOINERY AND CARPENTRY MANUFACTURERS IN MALAYSIA
TWO NEW SPECIES AND A NEW RECORD OF MADHUCA GMELIN (SAPOTACEAE) FROM PENINSULAR MALAYSIA
GIS AND TREE MAPPING: TOOLS FOR TEACHING TREE IDENTIFICATION IN EDUCATIONAL FORESTS
TAXONOMIC DIVERSITY, ABUNDANCE AND DISTRIBUTION OF LIANAS IN BEREMBUN VIRGIN JUNGLE RESERVE, NEGERI SEMBILAN, MALAYSIA.
B. E. Mohd-Ridzuwan, W. A. Wan Juliana, M. I. Shaharuddin, A. R. Abd. Rahman and A. Latiff
Full Text PDF
VEGETATION ASSESSMENT OF AWAT-AWAT MANGROVE FOREST, SARAWAK, MALAYSIA
Chandra L. Arianto, Seca Gandaseca , Oraini Rosli and Ahmad Mustapha M. Pazi
Full Text PDF
COMMUNITY STRUCTURE OF TREES IN AYER HITAM FOREST RESERVE, PUCHONG, SELANGOR, MALAYSIA
Nurul-Shida, S., Faridah-Hanum, I., Wan razali, W.M. I and Kamziah, K.
Full Text PDF
VEGETATIVE PROPAGATION OF BAUHINIA PURPUREA L. THROUGH SOFTWOOD BRANCH CUTTINGS
Sajad Razvi, S Nautiyal, Rakesh Prakash, S.M. Razvi and Khalid Rehman Hakeem
Full Text PDF