Latest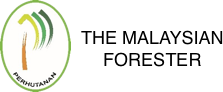 Latest Issue
Archive
Volume 76, No. 2 (2013)
DIRECTIONAL FELLING WITHIN SELECTIVE MANAGEMENT SYSTEM OF PENINSULAR MALAYSIA: COMPARISON BETWEEN CURRENT AND EXTENDED TECHNIQUES
Mohd Zaki, H., Nazri, H., Azura, S., Firdaus, K., Asiah, M. N., Ridzuan, T. I. and Zahari, I.
Full Text PDF
PUSH AND PULL FACTORS INFLUENCING DOMESTIC VISITORS TO KILIM KARST GEOFOREST PARK, LANGKAWI
Nurul Hikmah, Z., Syamsul Herman, M.A., Zaiton, S. and Ahmad, S.
Full Text PDF
STUDIES IN MALESIAN VITACEAE XII. REVISION OF VITIS L., AMPELOPSIS MICHX., PARTHENOCISSUS PLANCH. AND NOTHOCISSUS (MIQ.) LATIFF
LENGTH OF STAY OF DISCRETE OUTDOOR RECREATIONAL EXPERIENCES OF PERLIS STATE PARK
Syamsul Herman, M.A, Ahmad, S., Ramachandran, S. and Rusli, M. Y.
Full Text PDF
TREE SPECIES DIVERSITY AND STUMPAGE VALUATION OF COASTAL HILL FOREST IN PERAK, MALAYSIA
Ghollasimood Sholeh, Faridah-Hanum, I. and Awang Noor Abd Ghani
Full Text PDF
ATTRACTIVENESS OF FOREST RESEARCH INSTITUTE MALAYSIA (FRIM) CANOPY WALKWAY AS A NATURE-BASED TOURISM PRODUCT
Mohd Aswad, R., Azlizam, Aziz., Manohar, M., Sheena, B., and Mohd Rusli, Y.
Full Text PDF
ROLE OF CREATIVITY IN ENHANCING VISITORS' EXPERIENCE IN OUTDOOR RECREATION ACTIVITIES: A PRELIMINARY STUDY
CLASSIFICATION OF DECAY RESISTANCE AGAINST WHITE AND BROWN ROT FUNGI WITHIN THE CULTIVATED CALAMUS MANAN STEMS