Latest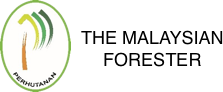 Latest Issue
Archive
Volume 75, No. 2 (2012)
Climate Change and Biodiversity: Research and Policy Issues in Sustainable Forestry in Malaysia
Mountain Trails as An Ecotourism Product in Malaysia: Proposed Classification and Grading
Two New Species and Two New Records of Vatica L. (Dipterocarpaceae) for Peninsular Malaysia
Multi-Criteria Decision Making Approach for Responsible Tourism Management
Madhavan Balan Nair, Sridar Ramachandran, Ahmad Shuib, Syamsul Herman, M.A. and Vikneswaran Nair
Full Text PDF
Strategic Approach in Stakeholder Identification for Sustainable Ecotourism Development
Hin Wai Yip, Abdullah M., Wan Razali W.M., Manohar M. and Awang Noor A.G.
Full Text PDF
Effect of Commercial Hormones and Cutting Position on The Rooting of Cuttings Taken From Propagules of Rhizophora Apiculata Blume
Aminah, H., Tariq Mubarak, H. and Ahmad Fauzi, M.S.
Full Text PDF
Community Structure and Productivity of Mangrove Forests in Two National Parks of West Malaysia
Barringtonia Sanimiranii (Lecythidaceae), A New Species From Terengganu, Peninsular Malaysia and Notes on Two Other Species
Mountain Trails in Malaysia: Its Establishment and Origin
Sam Shor, N.Y, Shukri, M., Azlizam, A., Wan Sabri, W.M. and Roselan, B.
Full Text PDF
Valuing The Recreational Benefit of Cross-Border Shopping at Wang Kelian Sunday Market, Perlis, Malaysia
Syamsul Herman, M.A, Ahmad, S., Ramachandran, S. and Rusli, Y.
Full Text PDF
Assessing The Economic Impact of Sustainable Forest Management Practices on The Timber Market in Peninsular Malaysia
Abdul-Rahim, A.S., Mohd Shahwahid, H.O., Mad-Nasir, S., and Awang-Noor, A.G.
Full Text PDF
Regeneration Status and Population Profiles of Peat Swamp Forest in Pekan Forest Reserve, Pahang