Latest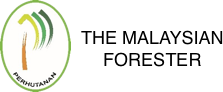 Latest Issue
Archive
Volume 71, No. 2 (2008)
Log Supply In Peninsular Malaysia: Is There A Real Cause For Concern?
Solid Hardwood Flooring Resistance To Termites (Coptotermes Curvignathus) Under Laboratory Condition
Immediate Effects Of Selective Logging On The Feeding Guilds And Species Composition Of Understorey Birds In Ulu Muda Forest Reserve, Peninsular Malaysia
Physical And Mechanical Characterisation Of Selected Malaysian Bamboo Species
Halis Rasmina, Mohd Hamami Sahri, Nor Rahmat Abdul Jalil And Zaidon Ashaari
Full Text PDF
Using Deterministic Sustainability Indices For Harvesting Red Junglefowl, Gallus Gallus Gallus (Linnaeus) In Peninsular Malaysia
Badrul Azhar, Mohamed Zakaria, Ebil Yusof And Puan Chong Leong
Full Text PDF
Comparison Of Bird Species Composition In Relation To Different Disturbance Level In A Tropical Lowland Rain Forest In Peninsular Malaysia
Hossein Varasteh Moradi, Mohamed Zakaria And Zamri Rosli
Full Text PDF
Identification Of Criteria And Indicators For Hazardous Trees In Recreation Forests Of Selangor, Malaysia
Amat Ramsa Yaman, Noor Syakila Ariffin, Abdullah Mohd, Yip Hin Wai And Sreetheran Maruthaveeran
Full Text PDF
Life Table And Demographic Parameters Of The Tiger Moth, Atteva Sciodoxa Meyrick (Lepidoptera: Yponomeutidae) Fed On Eurycoma Longifolia Jack
Abood, F. Bajwa, G.a., Ibrahim, Y. B. And AB. Rasip, A. G.
Full Text PDF
Assessment Of Logging Damage In A Malaysian Hill Dipterocarp Forest
Economic Valuation Of Water For Agriculture: The Case Of Cameron Highlands, Peninsular Malaysia
Awang Noor, A. G., Amir Hafidz, M. T. And Tuan Marina, T. I.
Full Text PDF
Bird's Habitat Suitability Model In Ayer Hitam Forest Reserve Using Geographical Information System
Mohd Hasmadi, I., Ismail Adnan, A. M. And Mohd Adnan,y.
Full Text PDF
Maesopsis Emini Engler - A Potential Plantation Species In The Future
Leaf Beetle (Coleoptera:Chrysomelidae) Fauna At Lake Kenyir In Terengganu, Malaysia
Fauziah Abdullah1, Kamarulnizam Shamsulaman2 And Ibnu Sina
Full Text PDF