Latest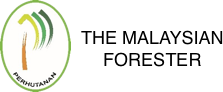 Latest Issue
Archive
Volume 70, No. 1 (2007)
18 MONTH-OLD GROWTH PERFORMANCE OF FOUR SELECTED ACACIA SPECIES PROVENANCE TRIAL
Abdul-Latib, S., Nor Aini, A. S., Hazandy, A. H. And Kamis, A.
Full Text PDF
Root Endophytes: A New Dimension In Plant Conservation?
Jutta, M., Faridah, Q. Z., Salleh, B. And Faridah, A
Full Text PDF
Environmental Administration For Foresters In-Service Training: Raising Consciousness And Promoting Good Values
Fire Season In Teak Plantations Of Central Java, Indonesia
Lailan Syaufina, Ahmad Ainuddin Nuruddin, Oemijati Rachmatsyah And Endang Ahmad Husaeni
Full Text PDF
Physiological Response Of Of Hopea Odorata Roxb. And Mimusops Elengi Linn. Seedlings Under Combined Nutrient And Water Stresses
The Economics Of Woodchips For Landscaping From Recycled Construction Debris
Ismariah, A., Maria Zura, M. A., Dahlan, J. And Mohd. Shukari, M.
Full Text PDF
The Environmental Knowledge And Attitude: The Interaction Effect Of The Selected Age Group And Gender Of Malaysian Secondary Students
Stocking And Stand Structure Of Sungai Kerang Mangroves In Matang, Peninsular Malaysia
Ismail, P., Ashari, M., Mohd Nasir, H. And Azian, M.
Full Text PDF