Latest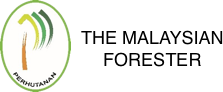 Latest Issue
Archive
Volume 69, No. 2 (2006)
TREND OF THE FOREST POLICIES ON THE DEVELOPMENT OF TIMBER TRADE AND WOODBASED INDUSTRY IN PENINSULAR MALAYSIA
Hassan-zaki, P., Frisco, N., Mohd. Hasmadi, I. And Jusoff, K.
Full Text PDF
BIOLOGICAL RESISTANCE OF MALAYSIAN CANES MODIFIED WITH POLYMER
Norul Hisham, H., Salmiah, U., Rasmina, H. And Adlin Sabrina, M.r.
Full Text PDF
MICROCLIMATIC CHANGES AND VEGETATION STRUCTURE IN FOREST EDGE: THE CASE OF KRAU WILDLIFE RESERVE, PAHANG
Badrul Azhar Md. Sharif, Ebil Yusof, Mohamed Zakaria And Puan, C. H.
Full Text PDF
COMPARISON OF NON-VOLANT SMALL MAMMAL COMPOSITION IN PRIMARY AND LOGGED-OVER FOREST OF SUNGAI LALANG FOREST RESERVE, SELANGOR
COMPARISON OF VEGETATION COMPOSITION IN REHABILITATED AREA AND SECONDARY FOREST IN PASOH FOREST RESERVE, NEGERI SEMBILAN
Mohd Zaki, H., Arifin, A., Ngumbang, S., Mohamad Azani, A., Faridah-hanum, I., Yusoff, M. K. And Nik Muhamad, M.
Full Text PDF
RELATIONSHIP BETWEEN SUSPENDED SOLIDS AND TURBIDITY OF RIVER IN FORESTED CATCHMENT
Mohd Kamil Yusoff, Mohamad Firuz Ramli, Hafizan Juahir, Saari Mustapha, Mohd Razi Ismail, Zawati Mat Perak And Abd. Rashid Haron
Full Text PDF
COMMUNITY STRUCTURE OF TREES IN LESONG VIRGIN JUNGLE RESERVE, PAHANG, MALAYSIA
Nizam, M. S., Suhaili, R., Latiff, A., And Faridah-hanum, I.
Full Text PDF
ORCHIDS : OBSERVATION OF VARIATIONS IN SOME TERRESTRIAL SPECIES IN PENINSULAR MALAYSIA
TREE SPECIES COMPOSITION AND STAND ATTRIBUTES OF AYER HITAM FOREST RESERVE, SELANGOR IN PENINSULAR MALAYSIA