Latest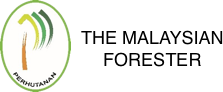 Latest Issue
Archive
Volume 82, No. 2 (2019)
ENHANCING FOREST BIODIVERSITY CONSERVATION IN PENINSULAR MALAYSIA THROUGH CENTRAL FOREST SPINE (CFS) INITIATIVE
Nor Akhiruddin Mahmud, Mohd Ridza Awang, Mohd Shukri Aziz and Stephinie Lai
Full Text PDF
AVAILABILITY OF THE LOCAL COMMUNITIES TOWARDS THE IMPLEMENTATION OF THE CENTRAL FOREST SPINE (CFS) PROJECT IN GERIK, PERAK
IN VITRO AXILLARY SHOOT REGENERATION AND CALLUS INDUCTION OF RAMIN MELAWIS, GONYSTYLUS BANCANUS (MIQ.) KURZ
Grippin Akeng, Nor Aini Ab. Shukor, Borhanudin Arshad, Hazandy Abdul Hamid, Ismail Parlan and Sures Kumar Muniandy
Full Text PDF
BENEFITS OF FOREST-RELATED RECREATIONAL ACTIVITIES TOWARDS PSYCHOLOGICAL STRESS OF VISITORS
Mohamad Ridzuan Mohd Saad, Nor Akmar Abdul Aziz and Manohar Mariapan
Full Text PDF
IMPACTS OF FOREST MANAGEMENT OPERATIONS ON THE LONG ADANG COMMUNITY, SARAWAK, MALAYSIA
Roland Kueh Jui Heng, Ling Kiang Cheng, Wilfred Sedau, Ong Kian Huat and Geoffery James Gerusu
Full Text PDF
A PRELIMINARY CHECKLIST OF SEED PLANTS IN HULU LANGAT FOREST RESERVE, SELANGOR, MALAYSIA
Z. Ahmad Fitri, Mohd. Puat Dahalan, Raffae Ahmad and A. Latiff
Full Text PDF
TERRAIN CHARACTERIZATION OF MOUNTAINOUS FOREST AREA IN CAMERON HIGHLAND
Azita A. Z., Muhammad-Shafeeq S., Thinaraj B. and Paul L.
Full Text PDF
TIME LAG AND DURATION THRESHOLD OF THROUGHFALL AND STEMFLOW UNDER REGENERATED TROPICAL FOREST CANOPY
CHECKLIST OF VERTEBRATES AT PRIMARY LINKAGES 2 (PL2) OF THE CENTRAL FOREST SPINE ECOLOGICAL CORRIDOR IN BELUMTEMENGOR FOREST RESERVES, PERAK, PENINSULAR MALAYSIA
Shahfiz, M.A., Shukri, M.A., Kaviarasu, M., Nor Hazwani, A.R1, Faradiana, N.M.F. and Nur Alwani, Z.
Full Text PDF
PHENOLOGICAL OBSERVATION OF MACARANGA TANARIUS (L.) MULL. ARG. AS A POTENTIAL PLANTATION SPECIES
Rosdi Koter, Mohd Zaki Hamzah, Nor Aini Ab Shukor , Hazandy Abdul Hamid, Wan Rashidah Abd Kadir, Nashatul Zaimah Noor Azman, Patahayah Mansor , Mohamad Lokmal Ngah and Marzalina Mansor
Full Text PDF