Latest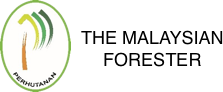 Latest Issue
Archive
Volume 73, No. 2 (2010)
Issues And Challenges In Managing Second Rotation Forest, Particularly For Timber Production In The Dry Inland Forest Of Johor
Stocking Of Second Growth Forest Based On The Fourth National Forests Inventory (nfi 4)
Mohd Hizamri Mohd Yasin, Nik Mohd Shah Nik Mustafa, Erik Lim Chong Ping And D.Zulkifli-Tukiman
Full Text PDF
Silvilcultural Prescriptions For Second Growth Forests: A Case Study In Tekam F.r.
K. Abd Rahman, M. Samsudin, H. Ismail, A.j. Khairul Najwan, W. A. Wan Shukri, I. Shamsudin And W.M. Wan Razali
Full Text PDF
Development Of Local Volume Table For Second Growth Forests Using Standing Tree Measurements
Z. S. Nur Hajar, W. A. Wan Mohd Shukri, M. Samsudin, W. M. Wan Razali And H. Ismail
Full Text PDF
Second Growth Forests: Are They Growing And Have They Recovered?
H. Ismail, Z. S. Nurhajar, W. A. Wan Shukri, M. Samsudin And O. Harfendy
Full Text PDF
Classification Of Second Growth Forests At Tekam Forest Reserve, Pahang And Cherul Forest Reserve, Terengganu
A. J. Khairul Najwan, M. Samsudin, M. Y. Safiah, H. Rodziah, S. I. Azhan, Y. Harry, K. Abd Rahman And W. A. Wan Juliana
Full Text PDF
Variation Analysis On Buffer Zone, Cutting-limit And Slope Angles In Timber Harvesting Planning
Stocking And Species Composition Of Second Growth Forests In Peninsular Malaysia
M. Samsudin, A. J. Khairul Najwan, M. S. Jalil, K. Abd Rahman, M.s. Mohd Nizam, W. A. Wan Mohd Shukri, H. Ismail, I. Shamsudin. And W. M. Wan Razali
Full Text PDF
Managing Second Rotation Natural Tropical Rain Forests Under The Selective Management System: The Case Of Dungun Timber Complex, Terengganu, Malaysia
Timber Yield From Second Entry Logging In The Lowland Mixed Dipterocarp Forest Of Deramakot, Sabah